By Elizabeth Paal, CFP®, CRPC®
After 12 years of grade school, followed by four years of college, you are voluntarily going to graduate school? Maybe you want to advance in your current job, or think grad school is the ticket to your dream job. Regardless, once people make the decision to go back to school, the question arises – how can I afford this? 
Returning to school as an adult often involves some financial sacrifices.  Good news though – financial aid, personal savings, employer-funded tuition and private loans may be available to help alleviate some of this financial burden!
Before jumping in and deciding graduate school is your next move, it's important to sit down and look at how much the education will cost. Don't just check out the sticker price of the school, but also the price of books, room, commuting, day-care costs (if applicable), etc.  And if you plan to go full time, it's important to factor in the time you'll be without a paycheck. Once you have this number, it's time to figure out who will help you pay for graduate school.
In some cases, your parents might offer to help, but don't assume that's going to happen when gathering loans to help pay for the education.
The first place that could help  would be your current employer. Some companies offer tuition reimbursement expenses, even if it's for classes unrelated to your current position. The first $5,250 of employer provided education assistance is tax free. If your employer is generous enough to pay for more, know that it will be included as taxable wages for that year.
If you ask your employer for assistance, be sure to check if there are any strings attached. In some cases you might have to stay longer at the company, meaning if you're going to school to jump ship for a new career this can be counterproductive.
The next place to look would be financial aid. This can be a daunting, so it is best to start at your school's financial aid office or at www.ed.gov. To qualify for financial aid, you must submit a FAFSA, which is the government's aid application. FAFSA will look at the amount of money you are expecting to contribute to college costs. If you have a high paying salary or significant assets, then you might have difficulty qualifying for financial aid.  If you're planning to go back to school full time and your income will be dramatically reduced, let the financial aid administrator know because they are authorized to make special circumstances where appropriate.
If you qualify for financial aid, there are a few federal and institutional financial aid options available.  The first would be loans – Direct Stafford Loans, Grad PLUS Loans and Perkins Loan. Direct Stafford Loans allow a graduate student to borrow up to $20,500 per year or $40,500 for certain medical training programs, with a maximum loan amount of $138,500 or $224,000 for medical training. This includes undergraduate borrowing, so if you've already tapped into the Direct Stafford for undergrad, be sure to add this in to the maximum you can borrow.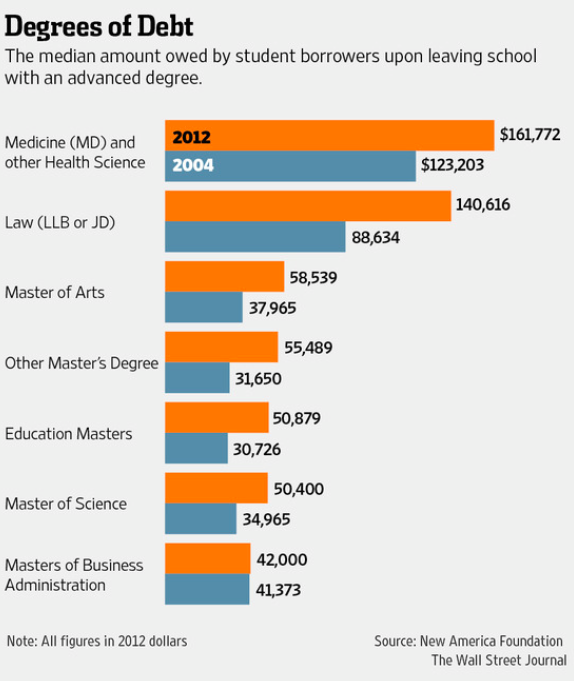 While the Direct Stafford Loans have a 5.84 percent interest rate for the 2015/16 school year, the Grad Plus Loans have an interest rate of 6.84 percent, but there are no annual borrowing limits. Thought these interest rates are fixed, be sure to check back because new loans rates are set in July.  To qualify for these loans, you must attend school at least on a half-time basis. If you're enrolled less than half the time, then you can apply for the Perkins loan, which is dispersed through individual colleges, and allows students to borrow up to $8,000 a year, with a maximum loan of $60,000, at a current interest rate at 5 percent.
If you don't qualify for financial aid, the next places to find funding help are scholarships and grants. At the graduate level, these are typically awarded based on merit, not need. Talk to your financial aid office and see what options are available to you.
If you've struck out twice with federal and institutional funding, or you need to borrow more than the allowable limit, go to a commercial lender like a bank and inquire about private loans. These typically are higher interest rates and offer less generous repayment options.
After you have exhausted all of these options, then look at using your personal assets. Maybe you have a windfall from an inheritance you can use, or leftover money from a 529 plan to help offset the expenses.  
Once you've secured your graduate school and funding, make the most of it! You've made a big investment, personally and financially, so take full advantage of this time and enjoy that student discount at the movies for a few more years.
Next month I will discuss deducting student loan interest so be sure to check out the post.  As always, if you have any questions, please feel free to email me at Elizabeth.Paal@lfg.com.  Have a Happy Summer!
Elizabeth Paal is a Director of Financial Planning at Heritage Financial Consultants, LLC and a registered representative of Lincoln Financial Advisors Corp., a broker/dealer (member SIPC) and registered investment advisor.  Heritage Financial Consultants is not an affiliate of Lincoln Financial Advisors.  CRN- 1517239-060316