By Nick Nelson – Alexandria, VA
 Trigger warning: rape, sexual assault, rape culture
In January 2015, a 23-year-old woman took her little sister to a party at Stanford University. She wasn't a student at Stanford, but decided, "It was my only night with her, I had nothing better to do, so why not, there's a dumb party ten minutes from my house, I would go, dance like a fool, and embarrass my younger sister."
That 23-year-old woman, whom reports have not identified, did what so many of us have done. She had a bit too much to drink and blacked out. That woman, who wanted nothing more than to live a little on a Saturday night and make some memories with her 17-year-old sister, was raped by a Stanford freshman – varsity swimmer Brock Turner.
In a harrowing statement, the unnamed victim read a letter directly to her attacker, reminding him of every detail of the attack. She told Turner of the humiliating vaginal and anal exam she had to endure in order to provide evidence of her rape. She told him about the feeling of "not wanting my body anymore. I was terrified of it, I didn't know what had been in it, if it had been contaminated, who had touched it."
She told Turner of the two graduate students who found her, chased and apprehended him, and were "crying so hard [they] couldn't speak because of what they had seen."
The victim, who was violated physically, spiritually and emotionally, who had to endure all those feelings during her exam, and then again during the trial, told her attacker these things. She used more than 7,000 words to do so. She spoke to Turner directly, using language that remained measured, and a tone that never became bilious or hateful. She began the statement with one powerful sentence: "You don't know me, but you've been inside me, and that's why we're here today."
The trial wrapped up on June 2, and Brock Turner, who stripped a woman so drunk as to be unconscious, mounted her and inserted his hand into her vagina, was given six months in prison and three years probation. The sentencing judge – a former captain of Stanford men's lacrosse – explained "a prison sentence would have a severe impact on him…I think he will not be a danger to others."
Breaking Update: Online inmate records show 20-year-old Brock Turner is expected to be released from the Santa Clara County jail on Sept. 2. He was booked June 2.
Part of what decreased Turner's sentence from the years he deserved to the months he got was an abhorrent letter from his father, in which his father states, "These verdicts have broken and shattered him and our family…that is a steep price to pay for 20 minutes of action out of his 20 plus years of life. The fact that he now has to register as a sex offender for the rest of his life forever alters where he can live, visit, work and how he will be able to interact with people and organizations."
Brock Turner, now a 20-year-old college dropout and convicted felon, will not be a danger to others.
Brock Turner, who, instead of seeking medical help for a woman with a blood alcohol content level over three times the legal limit, stripped her naked and assaulted her, will not be a danger to others.
If I can be frank: that is absolute bullshit, and I think the survivor of this assault would be forgiven in feeling like she was attacked all over again by this mockery of justice. Her life may be ruined. Her life will likely be one of constant and enduring fear, with so many awful feelings of resentment, none of which are brought on by any fault of her own. Those "20 minutes of action" Turner's father so callously bandies about led to a lifetime of consequences for her.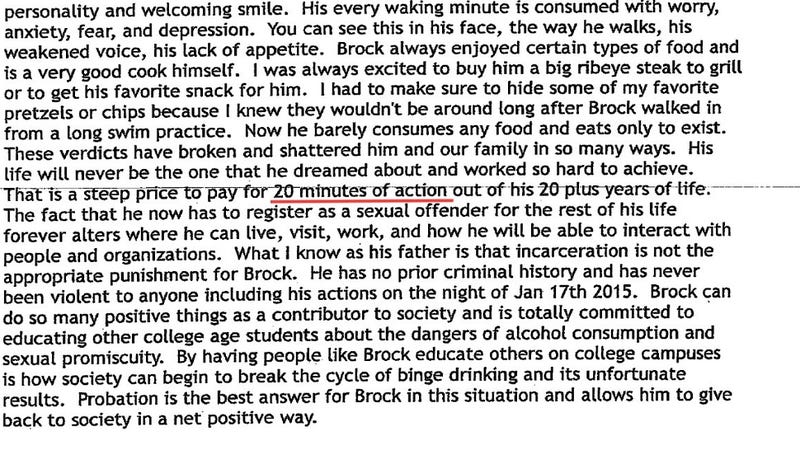 What those 20 minutes cannot lead to is rape becoming a crime without consequence to the perpetrator. Just because the victim wished to remain nameless does not mean she needs to live without identity.
Rape is not her fight alone. It is not her family's fight. It is not the detectives' fight, the prosecution's fight or the jury's fight. Rape is everyone's fight. If this article made you angry, use that emotion for good. If it made you sad, turn that compassion into action. Each and every one of us can combat rape culture in this country, and we can do it in the littlest of ways.
If you have kids, sit them down when it's time and explain how to be respectful. Be firm, frank and clear about boundaries, consent and safety. Operate as a role model for your family, for your friends, for complete strangers. Do not look at rape as something that happens to other people, something we can't prevent or something that "just happens." We can all destroy rape culture. It's on all of us to do so.
In the survivor's own words:
And finally, to girls everywhere, I am with you. On nights when you feel alone, I am with you. When people doubt you or dismiss you, I am with you. I fought everyday for you. So never stop fighting, I believe you.
As the author Anne Lamott once wrote, "Lighthouses don't go running all over an island looking for boats to save; they just stand there shining." Although I can't save every boat, I hope that by speaking today, you absorbed a small amount of light, a small knowing that you can't be silenced, a small satisfaction that justice was served, a small assurance that we are getting somewhere, and a big, big knowing that you are important, unquestionably, you are untouchable, you are beautiful, you are to be valued, respected, undeniably, every minute of every day, you are powerful and nobody can take that away from you.
To girls everywhere, I am with you. Thank you.